Posted in three parts, due to length.
Part 1. Silent, venerable stills.
Ahhh. Single malt Scotch whisky. Like it, love it, or just plain need it or else you'll see bats crawl from small holes in the wall, there's no denying it's power, complexity of taste and noble place in Scottish culture. Indeed, a great malt can convey a whole landscape in a single glass. Glasgow is no exception when it comes to whisky distilling. Sadly this is an industry which, like any other, has suffered it's ups and downs. On this forum quite a few have been noting of late the various stages of decay, destruction and proposed redevelopment of Ballantine's old Dumbarton distillery, but there have been many other Glasgow area stills fallen silent before this one.
Since distilling was for centuries a rather illicit affair due to taxation, "the first" Glasgow distillery is lost in the mists of time, anecdote and too much booze. However, following the 1823 act making legal distilling easier and cheaper, the third ever license to produce whisky was given to John Harvey for Dundashill , and the fourth to one William Menzies, who's premises on Kirk Street (Townhead) had been operating since at least 1786. Both distillery and even the street itself are long gone though.
Another liquid magic maker in the Glasgow area with claims to be "Scotland's oldest" was
Littlemill Distillery
at Bowling. Continuous production is believed to have been going on at this site since at least 1750, but the buildings visible at the location until fairly recently were from 1817. After producing three styles of whisky, Littlemill, Dunglass and Dumbuck, the stills fell silent in 1989. Various proposals were all put forward for saving the decaying place, including a working museum and yuppie flats, but ended recently in it's sad destruction in the now seemingly inevitable fire.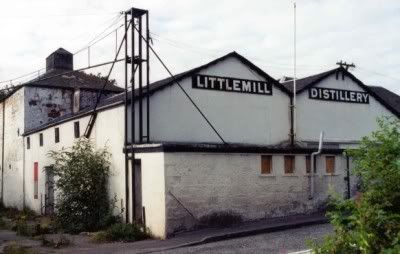 Following the Forth and Clyde canal from it's mouth at Bowling towards Falkirk, you eventually pass a Beefeater Restaurant. This is situated in part of what was once the
Rosebank Distillery
, most of which dates back to 1840. It's owners, United Distillers closed the place in 1993 in the face of a great deal of protest, and ironically announced it's fate just a few days after the BBC's then popular FOOD AND DRINK PROGRAM declared Rosebank's 12 year old their "whisky of the month", a perfect "beginners" malt, sending sales soaring. I have read in some sources that the stills and other manufacturing equipment are still in place, mothballed, therefor this is one of those lost whiskies which is hoped will rise from the grave one day. What the truth of this is, I can't say.
Also by the banks of the canal is the Port Dundas grain distillery. It once had a malt whisky producing neighbour, only a quarter of a mile away on the Nollie at 2 Craighall Road, the
Dundashill Distillery
. Parts of the works here once constituted the highest point in Glasgow. Founded in 1770, this grew to be an enormous facility, the largest "pure malt" producer in Scotland with 12 large stills. Using water from Loch Katrine, the distillers at one point made test batches from the water of the canal itself, which doesn't bare thinking about. Two whisky styles were made, a peated "Highland Malt" and an unpeated "Old Still Malt". The place closed in 1902, and some of it's equipment was moved to Port Dundas.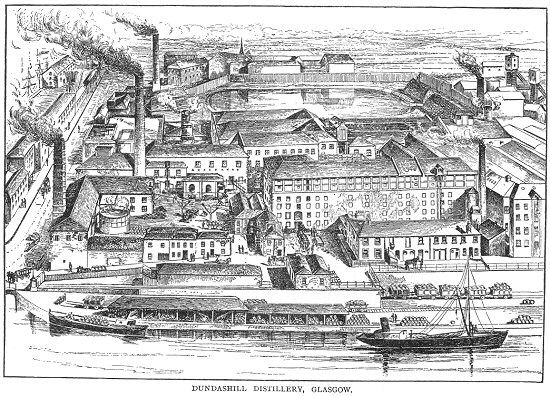 Another long gone palace of drink is the
Clydesdale Distillery
, formerly on Glasgow Road, Wishaw, set up in 1825 by Lord Belhaven in what was then in the middle of the countryside near an old Roman Road. In it's heyday it employed forty people, and it's four pot stills produced a peated spirit, some of which was aged in Spanish Sherry casks. The business never recovered from one of the industries early blows, the First World War, and ceased production in 1919. The buildings however lingered on until 1988, when they were demolished in the welter of whisky vandalism that occurred in that decade, the last major killer era for so many things Scotch related.
Over in the Gorbals was the
Adelphi Distillery
, built on the site of an orchard close to the banks of the Clyde in 1826, on Muirhead Street. It produced both grain and malt whiskies, the latter in four pot stills. In 1870 it was re-named the Loch Katrine Adelphi Distillery, after a merger was made with another lost Glasgow dizzy named the
Loch Katrine Distillery
, once situated in Camlachie (which also operated four stills). The Gorbals facility closed and was mothballed in 1902, but wasn't dismantled until 1981.
Sailing doon the watter, you would once have come across the
Yoker Distillery
on the North bank of the Clyde, sitting by the Yoker Burn since 1770.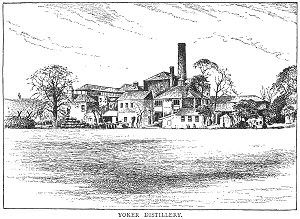 Owned by the Harvey family who also founded Dundashill, Yoker used grain supplied by that enormous booze factory. It's main business was the production of grain spirit, but it also made malt in small quantaties. Yoker closed in 1927, a bad period for distillers due to the Depression and American Prohibition. It was burned down in the Clydebank Blitz in 1942. Fire, a major scourge of spirit producers the world over, also claimed the
Tambowie Distillery
in Milngavie in 1914. This small facility made whisky in two pot stills, and was founded in 1825.
In Paisley, the
Saucel Distillery
once stood on the bank of the Espedaire Burn. It contained eighteen stills, and produced both grain and malt spirits, close to a million gallons of the stuff annually! It closed in 1915 when a fire wiped out it's production facilities. It's near neighbour was the
Gleniffer Distillery
in Johnstone. Originally called the Glenpatrick by it's founder James Hodge in 1833, it was renamed in 1858. It operated on a small scale, with two pot stills, and closed in 1894.
Does anyone have have any photos or further info on these once busy whisky producers, some of which were still standing into the 1980's (or later, in some cases)? If so...